The city of Anthem, Arizona is a master-planned community centrally located between downtown Phoenix, about 32 miles away, and the city of Flagstaff, less than 2 hours drive by car or recreational vehicle. It is an ideal location for those that want the best of both worlds — close proximity to the restaurants, sporting venues, and nightlife of Phoenix, and easy access to I-17, the nearby Carefree Highway, and the cooler temperatures of recreational areas near Flagstaff, Prescott and Sedona, in the northern part of the state. Because of its proximity at the base of a mountain, temperatures are typically 2-3 degrees cooler in Anthem, and the town sees an average of 85 percent sunshine, and 13.28 percent precipitation. As they say in Anthem, life here is "Life in Abundance.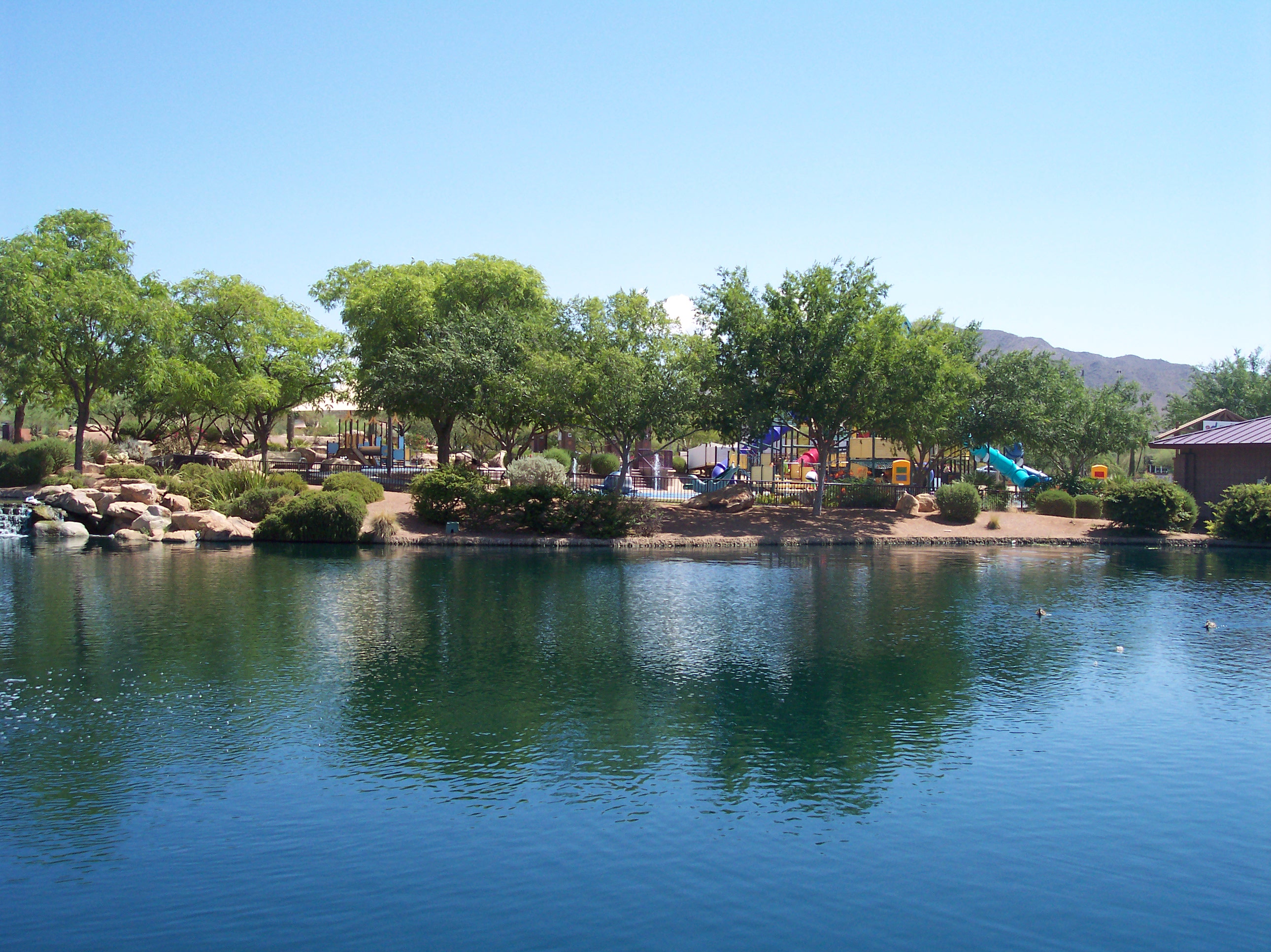 "The upscale homes at the gated Anthem Country Club offer homeowners an intimate living experience, close proximity to local shops, medical offices, business parks and easy access to two championship golf courses. Add to that the views of the mountain ranges that surround the town, and vistas of the nearby Sonoran desert, and you have prime Anthem living.

The rest of the community of approximately 25,000 features real estate that is made up of a mix of 9,500 single-family homes, gated communities, townhomes, condominiums and apartments. Three Homeowners Associations govern the look and feel of the neighborhoods. Governance of the town itself is split between Maricopa County (east of I-17) and the City of Phoenix (west of I-17). A local group, the Anthem Community Council, is a non-profit "umbrella" organization that oversees community-owned assets, and promotes economic development and quality of life in the city. The local HOA publishes Freedom Way, a monthly magazine that highlights life and living in Anthem, and includes news, feature stories, columnists, an events calendar and local advertising.

Anthem has been named as one of the "Best Places to Live in Arizona" and "One of the Best Family Friendly Neighborhoods in the Valley" by Phoenix Magazine, and as one of the "Best Places to Raise a Family" by Parenting Magazine. It's a small wonder with the median age per person being 36.8 years old and median household income just under $68,000 annually. Anthem is family-centric.

Shopping and Dining
Anthem is served by an array of retailers, including Safeway, Fry's, and Wal-Mart. National retailers and restaurants as well as independent stores and cafes are scattered throughout shopping plazas around the city. But the real draw for serious shoppers are the Outlets at Anthem, made up of 80 stores including Ann Taylor Factory Store, Banana Republic Factory Store, Bose Factory Store, Calvin Klein Outlet, DKNY Company Store, Levi's Outlet Store, Nike Factory Store, and more. There are plenty of dining options for hungry shoppers, roadside travelers or families in search of a meal. Anthem boasts more than 50 restaurants and cafés, with a range of foods that include Italian, French, Mediterranean, Thai, Chinese, Mexican and Sushi. There is also an assortment of sports bars, coffee shops, delicatessens and bakeries to meet every dining need — and some with home delivery.


Parks and Recreation
The 63-acre Anthem Community Park features a 4-acre catch-and-release fishing lake, a mini-railroad that takes children of all ages on rides through the park, and a 14,000 square foot skate park, complete with a six-foot deep, 1,500 square foot bowl. It's a skateboard enthusiasts dream with several jumps and banks to enhance the fun. Not to mention the softball, baseball and soccer fields. The 40,000 square foot Anthem Community Center features a full size gymnasium, basketball court, fitness center, swimming pools, and a 1,100 square foot child care center. The Community Center also offers year-round activities for adults and youth. Activities for adults include Aquatics, Dance, Gymnastics, Health and Fitness, Sports, Tennis and more. For youth, the organized activities include Basketball and Volleyball leagues, and a youth sports camp. The Rock Climbing Wallat the Anthem Community Center is also open daily for ages six and up to experience. The entire community is invited to several annual events including Anthem Days, Music in May, Independence Day, Autumnfest, and Holiday in the Park.


Living
A benefit of being a master-planned community is that Anthem has most of the advantages of being in a big city but still has the charm and feel of a small town. The weather is sunny and moderate most of the year, except for a few weeks in late summer when heavy rain and thunderstorms keep people indoors. For the most part, taking advantage of Anthem's 10 miles of hiking and biking trails is something that people do nearly every day of the year. Anthem also has a variety of organized sports teams including the Anthem Dolphins Swim Team and the Anthem Soccer Club. There are also several adult baseball and basketball teams, Little League Baseball and Softball and Pop Warner football clubs. The North Valley Regional Library - Anthem serves Anthem and surrounding areas. The library is a joint-use facility on the campus of Boulder Creek High School, and features a collection of 80,000 items that include best sellers, movies on DVD and Blu-Ray, books on CD, newspapers and magazines. The library also has 50 computers with Internet access making it a state-of-the-art facility.


Schools, Health and Transportation
Students in Anthem either attend one of six public schools that are part of the Deer Valley Unified School District, or they may attend one of seven charter schools that are within the city. Deer Valley is made up of five K-8 schools and one grade 9-12 facility, Boulder Creek High School. Deer Valley was recently named an Advanced Placement Achievement District, one of only four school districts in Arizona to get that designation. All of the Deer Valley schools in Anthem have received either "Excelling" or "Highly Performing" ratings from the Arizona Department of Education. Anthem is also in close proximity to several colleges including Arizona State University-West, Paradise Valley College and Glendale Community College. Medical Services in Anthem are abundant including numerous doctors and specialists. The Honor Health Medical Group offers Primary and Immediate care services while actual hospital facilities are in nearby Glendale and Phoenix. Valley Metro Transit does not provide bus service to Anthem, but they do have a vanpool service to and from Anthem and Phoenix.

To work with a team experienced with listing and selling Anthem Residential Real Estate contact Tony & Suzanne today!

The ARMLS logo indicates a shared property that may be listed by a real estate brokerage other than the ARMLS. All information should be verified by the recipient and none is guaranteed as accurate by ARMLS. Copyright 2022 Arizona Regional Multiple Listing Service, Inc. All rights reserved.
Updated: 2nd October, 2023 1:45 AM (UTC).