Avondale is one of Arizona's fastest growing cities largely due to its mix of natural wildlife, eclectic displays of outdoor art, a new indoor sports center, proximity to major sporting arenas, and the fact that it is a 15 minute drive from Phoenix, where the bustling city life is close enough to visit but far enough to be removed from at the end of the day. Avondale's population is estimated at about 76,000, based on the 2010 Census, a 107 percent increase since 2000. That number is expected to grow to 120,000 by 2020 due to positive economic conditions in the town, including incentives that the city government offers to businesses to move there.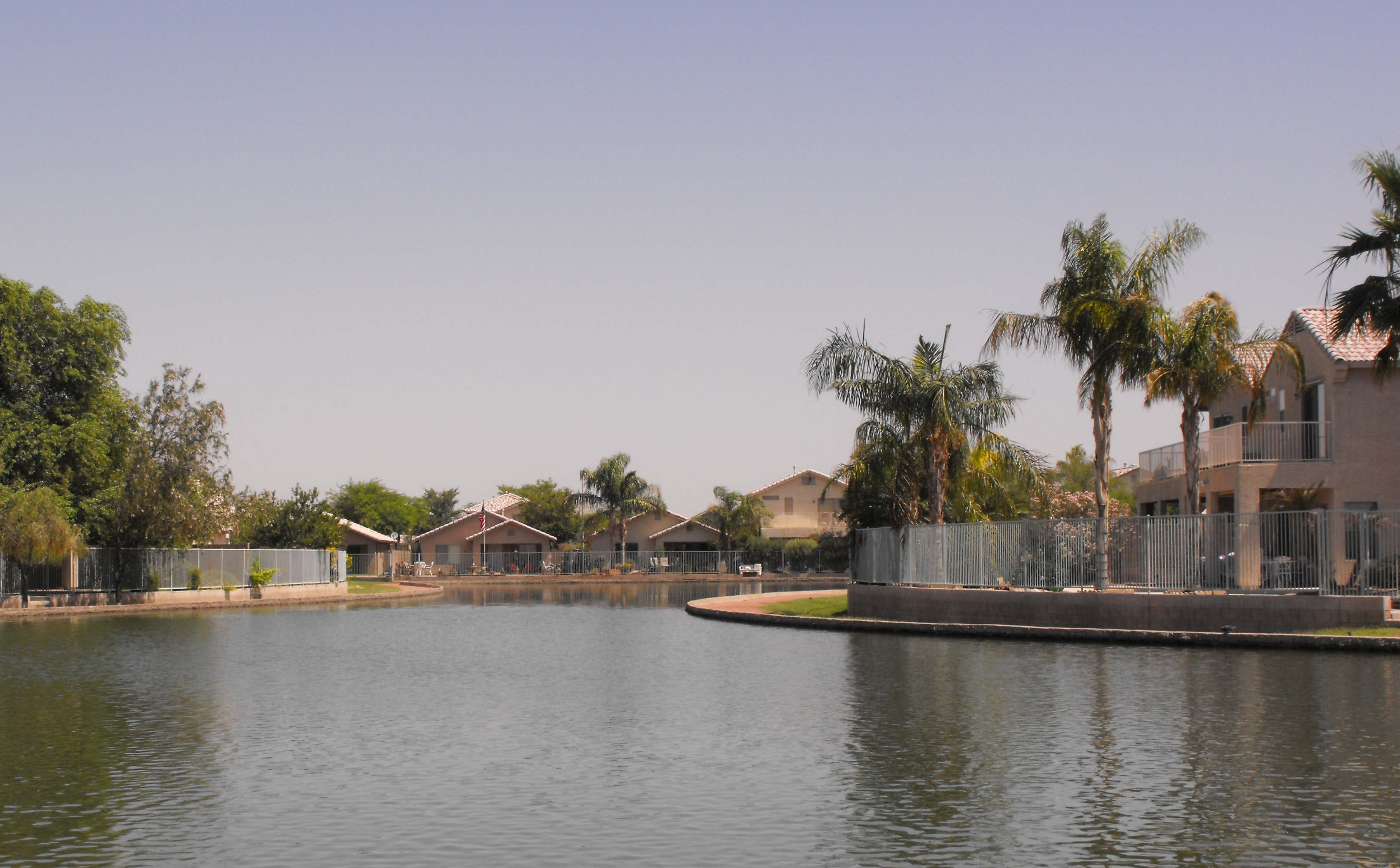 It just so happens that the center of Arizona is actually located in Avondale. The Base Line and Principal Meridian for mapping the state actually meet on Monument Hill, a mount rising to the east of the International Raceway, at the union of the Salt and Gila Rivers. This point is used for mapping purposes in all of Arizona. Below Monument Hill is the Base and Meridian Wildlife Area, nearly 200 acres of river and riparian habitat, and home to a host of birds, mammals, reptiles and vegetation, all of which prosper due to their close proximity to the river. The area is presently undergoing habitat restoration, but the long-term plan is for future generations to enjoy wildlife-oriented recreational use.
Shopping and Dining
There are a multitude of shopping opportunities in Avondale from the chain stores like Wal-Mart, Kohl's, and Old Navy that one might find in the bigger cities, to boutique shops that offer a taste of local flavor. The City of Avondale has taken a proactive stance in keeping monies local with a "Shop Avondale!"campaign letting people know that nearly half of the sales dollars spent locally go back into the town's general fund, allowing improvements throughout the town during otherwise tough fiscal times. A hungry diner will enjoy an array of choices of where to eat from family themed eateries like Red Robin Gourmet Burgers to Gino's Fish and Chips, and Red Devil Italian Eatery. The Game Time Sports Grill is a popular location on game day.


Parks and Recreation
Avondale has an active Parks, Recreation, and Libraries department that offers a variety of activities for the community throughout the year. The recreation department provides organized sportsteams for adults and youth, as well as leisure classes, outdoor recreation, and special events.

The Avondale Library actually has two locations and features thousands of books, as well as e-books online, and downloadable audio books. Residents can also use the library computers for a variety of things, from job-seeking to shopping and social media. Events like the annual summer reading program also happen at the library. Meeting rooms are available for local groups.

Avondale boasts several parks, which feature a multitude of activities from being basic playground to having softball fields, basketball courts, walking trails, indoor bathrooms and more. Avondale Friendship Park on W. McDowell Road is the most fully featured of all the parks, with 2 youth baseball fields, 2 basketball courts, 2 tennis courts, 3 playgrounds, 3 ramadas, a softball field, a dog park, walking trails, and a Japanese Garden! The City also invests in upgrades to its own amenities including the construction of the Avondale City Center, American Sports Complex and Retail Center. Completed in November 2010, the 83,000 square foot athletic facility features 6 volleyball courts, 2 basketball courts, 2 indoor soccer fields, and a 4,000 square foot multipurpose room. Sports leagues of all types are offered. Avondale already boasts an existing sports complex as home for the Phoenix International Raceway, where NASCAR fans flock to on two race weekends each year. Golfing is a must-do activity in Arizona, and tee times are amply available at the Coldwater Golf Club.


Living
Avondale is a city that is focused on Green living. Besides encouraging residents to conduct business with the city online, City Hall has actually enacted a trip reduction program, with extended hours during the week and closing down entirely on Fridays, with the idea that less people on the road one day a week would result in less traffic and less pollution. That's fine with most residents, who would rather spend their time on any of the nearby hiking trails, or riding around the various neighborhoods on their bicycles. There are meetings of all sorts held by various groups throughout each month and listed on the Avondale official website.

There is a strong chance that someone in an Avondale home is a sports fan, and there are no fewer than four professional sport teams' just minutes away by car. The Tempe-based Arizona Cardinals football team and the Arizona Diamondbacks professional baseball team are draws to the local stadiums, as well as the Phoenix Suns professional basketball franchise, and the Phoenix Mercury professional basketball franchise – featuring all women players. In a slightly cooler setting, the National Hockey League's Phoenix Coyotes call the Gila River Arena in nearby Glendale their home.


Schools, Health and Transportation
Two school districts operate simultaneously in Avondale. The Avondale Elementary School District operates two schools in Avondale, and seven others in nearby Goodyear. Aqua Fria High School in Avondale is a part of the Agua Fria School District. A charter school, Estrella High School, has more than 400 students. There are also educational opportunities to be had without leaving town. Avondale is home to Estrella Mountain Community College. The community college even reaches out to younger students offering a "Kids College" during the summer months. Residents also take advantage of Northern Arizona University's Distance Learning program, or drive into Phoenix where they can enroll in courses at Arizona State University's Downtown and West Campuses.

Medical professionals of all kinds keep offices in Avondale, from pediatric practitioners to more complex neurosurgical physicians and other specialists. There are several Urgent Care facilities around town operated by different medical companies, filling in for patients that may need urgent medical care but can live without an actual hospital, the closest being Banner Estrella Medical Center 15 minutes away in Phoenix, or in nearby Glendale.

There are plenty of public transportation optionsin Avondale, including the ZOOM circulator that zips in and around neighborhoods to various locations in the city. Bus passes on the Valley Metro to a host of local destinations are available at the Avondale Civic Center. And a fixed-route bus service offers citizens transportation alternatives to locations throughout the Valley and into downtown Phoenix. The City of Avondale has also created a subsidized taxi service for residents with special transportation needs.

To work with a team experienced with listing and selling Avondale Residential Real Estate contact Tony & Suzanne today!

The ARMLS logo indicates a shared property that may be listed by a real estate brokerage other than the ARMLS. All information should be verified by the recipient and none is guaranteed as accurate by ARMLS. Copyright 2022 Arizona Regional Multiple Listing Service, Inc. All rights reserved.
Updated: 2nd October, 2023 2:05 AM (UTC).