For the 5,700 or so people that call Litchfield Parkhome, the tiny burg just 15 miles from Phoenix is their own slice of paradise. The town has remained small — only 3.3 square miles in total size — so folks running into each other at the Post Office downtown, or neighbors dining at opposite tables in a restaurant is commonplace. Locally-owned restaurantsand retailers line the downtown strip. The town leaders see some development on the horizon and possibly a new city hall — but only if it maintains the same small town feel with local retailers and offices as part of the plan.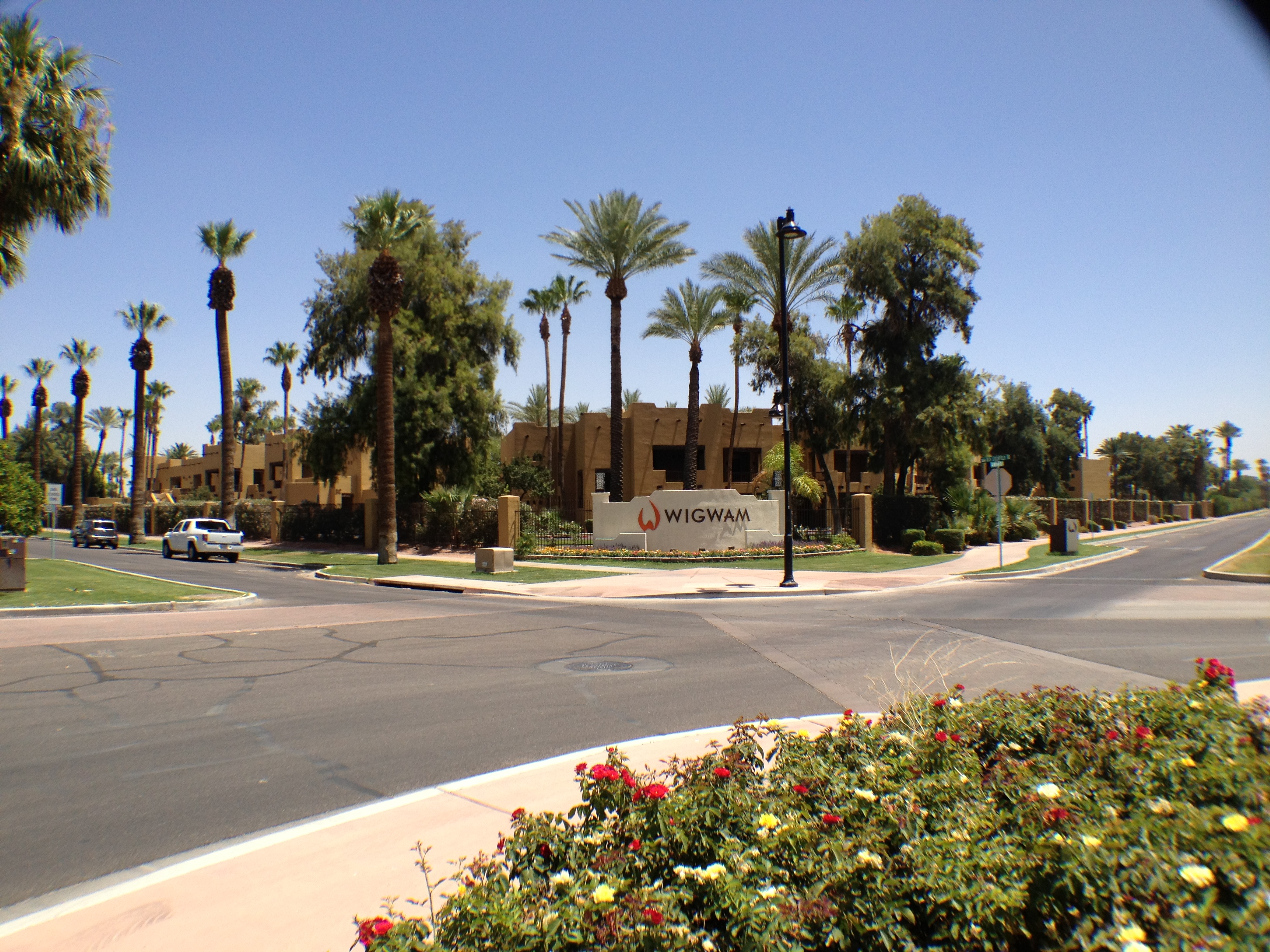 Litchfield Park has been recognized by Phoenix Magazine as being one of the "8 Best Places to Live" in the state of Arizona. But as recently as 20 years ago, people thought of Litchfield Park as a tiny town in the middle of nowhere. The neighboring towns of Goodyear and Avondale were 3-4 miles away. But nowadays, thanks to growth in those communities, the towns are close enough that they nearly butt up to each geographically. Residents know when they are home in Litchfield Park by the well-maintained streets, older trees, and small-town feel that their town is known for.

In the early 1960's plans were in place to building 25,000 homes in Litchfield Park, with sites on creating a town of about 90,000 people. The plans included designs for 18 elementary schools, 10 junior high schools and a community college, among other things. But the developer that owned the land, Litchfield Park Land & Development Co. (headed by Arvin E. Goodyear of the Goodyear Tire and Rubber Co.) made mistakes in the planning that would have made building ordinary things like sidewalks on city streets cumbersome. Goodyear soon abandoned plans for the $750 million development and sold his stake in Litchfield Park land.

The town's largest employer is the Wigwam Resort, a golfer's paradise located on the outskirts of the community. Businesses in Litchfield Park benefit from what Wigwam, which has been called "an Oasis in the Desert" with an estimated 15-20% of sales each year coming from visitors to the resort.

Shopping and Dining
Albertson's and Bashas' Supermarketare the main choices for grocery shopping in Litchfield Park. Much of what residents look for can be found right in Litchfield Park either downtown or at the Wigwam Creek Shopping Center, anchored by Albertson's, CVS Pharmacy, McDonalds, KFC and small retailers. Specialty shops like Creative Outdoor Kitchensalso provide customized work for people doing home improvements. There is a weekly Farmer's Marketon Sundays between 9 a.m. and 1:00 p.m. on the front lawn of the Wigwam Resort. What is not in Litchfield Creek is merely a quick drive to nearby Goodyear or Avondale, or in some cases, Phoenix. Litchfield Park is a member of the Southwest Valley Chamber of Commerce, an umbrella chamber for four area towns that promote local commerce.

There are three popular choices for dining at the Wigwam Resort, in addition to family owned and operated restaurants in the heart of downtown. Litchfield'sis a casual style restaurant specializing in dishes made with local ingredients that is named after Paul Litchfield, the Goodyear Tire and Rubber executive that founded Litchfield Park. Red's Bar and Grillopen all day and specializes in soups, salads, sandwiches, and a variety of gourmet entrees. The Wigwam Bar and the Tower Pool Bar and Grill offer al fresco dining near the pool and waterslide, with dishes ranging from appetizers to large entrees.

There are no shortage of cuisines in downtown Litchfield Park, ranging in styles from Mexican to Persian and Asian-inspired restaurants. The Old Pueblo Caféis one popular destination, providing indoor and outdoor seating and authentic Mexican cuisine.


Parks and Recreation
Litchfield Park has been a golf destination for decades with people coming far and wide to play. The Wigwam Resort Golf Coursewith multiple courses is a popular destination, as is the Falcon Golf Club.

Speaking of Falcons, there is plenty of wildlife in Litchfield Park, especially at the Wildlife World Zoo, Aquaruim & Safari Park, where everything from Rhinoceroses to Tigers, Monkeys, Pythons, Crocodiles, and Parrots can be found.

The City of Litchfield Park's Department of Parks and Recreationprovides youth and adult activities to residents and non-residents ranging from swimming and water aerobics to ice skating. There are various leagues depending on age-group. Special attention is made to having activities for senior citizens. Flag football is offered for school-aged kids as well as T-ball for kids ages 3-6. The department also sponsors a pre-schooland accepts enrollments throughout the school year, providing space is available.


Living
Litchfield Park boasts a rather young population with the median age for males being 44.2 years, and women 37.1 years of age. The median household income in 2009 was $94,412 (up from $71,875 in 2000). With more than 300 days of sunshine each year, people take advantage of the great outdoors. Hiking and bicycling are popular activities.

The City of Litchfield Park produces a variety of events each yearthat keep the community involved and entertained at the same time. The events range from a winter trout fishing derby in January to the annual Independence Day Celebration in July. Also on the agenda in April is the yearly Sprint in the Park Triathlon, which includes a 300 yard swim, 8.4 mile bike and 2 mile run. In May the Wigwam Annual Golf Tournament takes place.

Being 15 miles outside of Phoenix allows residents to take advantage of a small town feel while also being able to partake in activities in the city. There there are no fewer than four professional sports teams in Phoenix, so residents can easily take advantage of great seats at professional sporting events. The Arizona Cardinalsfootball team and the Arizona Diamondbacksprofessional baseball team are draws to the local stadiums, as well as the Phoenix Sunsprofessional basketball franchise, and the Phoenix Mercuryprofessional basketball franchise — featuring all women players. The National Hockey League's Phoenix Coyotes, which made it to the Stanley Cup playoffs in 2012, call the Gila River Arenain nearby Glendale their home.


Schools, Health, and Transportation
The Litchfield Elementary School District is responsible for students in grades Pre-K-8. There are nine elementary schools and four junior high schools within the district. There is also a charter school choicefor students in grades K-6 in Litchfield Park. High School age students are part of the Agua Fria Union High School Districtand commute a short distance into Avondale to attend classes. College age students can easily commute to Phoenix to take classes at any of the Maricopa Community Collegesites, as well as Arizona State University, located in Tempe.

The City of Litchfield Park offers its own Prescription Drug Discount Programthat any resident can take part in, saving an average of 20 percent on most prescriptions. There is no cost to participate. Litchfield Park is served by a variety of doctors, dentists and health specialists, most of whom specialize in family medicine. Estrella Women's Helath Center offers specialized services for female needs. The nearest hospitals are in Phoenix, and the nearest urgent care centersare in Avondale.

To work with a team experienced with listing and selling Litchfield Park Residential Real Estate contact Tony & Suzanne today!

The ARMLS logo indicates a shared property that may be listed by a real estate brokerage other than the ARMLS. All information should be verified by the recipient and none is guaranteed as accurate by ARMLS. Copyright 2022 Arizona Regional Multiple Listing Service, Inc. All rights reserved.
Updated: 17th August, 2022 3:31 AM (UTC).